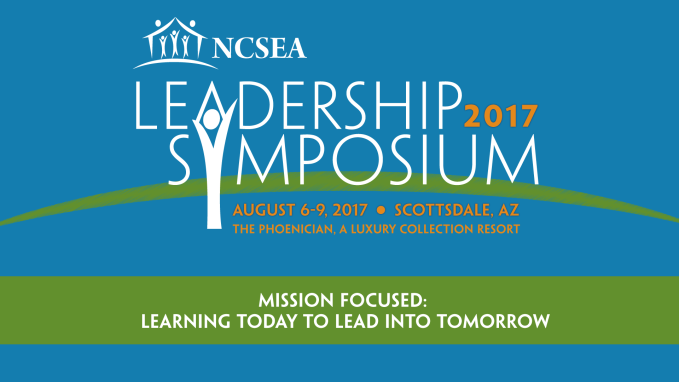 2017 NCSEA Leadership Symposium
"Mission Focused: Learning Today to Lead into Tomorrow"
Please join us for another exciting year of the 2017 NCSEA Leadership Symposium, which will be held on August 6-9, 2017 at The Phoenician, A Luxury Collection Resort,  in Scottsdale, Arizona. We will provide relevant, quality educational opportunities aimed at directors, managers, leaders, and future leaders in the child support community. Be prepared to participate in our excellent plenaries and breakout sessions.
Topics include:
Leadership
Policy
Service Delivery
Intergovernmental
Tribal Child Support
Numerous CLE offerings will continue to be included in the agenda. The 2017 NCSEA Leadership Symposium offers the same high-quality programming you have come to expect from NCSEA, with a unique focus on nurturing current and future leaders in the child support program, including those who lead within their offices, whether they have the title or not. So whether you are a current leader, or aspire to become one within your organization, the 2017 NCSEA Leadership Symposium is for you.
Detailed Schedule – as of  July 11, 2017 subject to change, check back regularly
Sponsor & Exhibitor Opportunities 
The Phoenician – Reserve your hotel room today!
Registration
NCSEA Member Fees:
Regular Member Rate: $655

*Host & Neighboring States: $510
Non- Member Fees:
Regular Non-Member Rate: $775
*Host & Neighboring States: $630
*States – AZ,CA,CO,NM,NV,UT
International Rate:
International Attendee: $545
Register online (credit cards only) or download registration form
Registration Payment Policy: Registration payment MUST be received in full before an attendee will be able to attend the Event. If an attendee is submitting registration payment by mail or fax (credit card payments only), the payment must arrive at the NCSEA office no later than July 21, 2017. Attendees whose payments are not received by July 21 must bring payment to the Event in order to complete the registration process.
Registration Cancellation Policy: NCSEA is unable to accept telephone or verbal cancellations. To cancel your registration, please provide written notice to the attention of the Symposium Registrar and send via email (registrations@ncsea.org), fax (703-506-3266) or mail (NCSEA – Attn: Leadership Symposium Registration; 7918 Jones Branch Drive, Suite 300, McLean, VA 22102) no later than July 5, 2017 to receive a 50% refund of your registration fee. NCSEA regrets that Event registration fees cannot be credited to a future NCSEA Event. No refunds will be issued after July 5, 2017.