Date: November 14, 2019
Contact: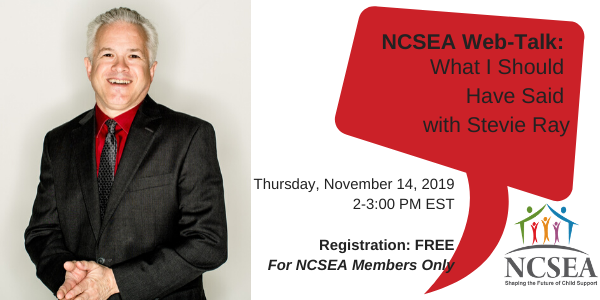 FEATURING STEVIE RAY FROM THE 2019 LEADERSHIP SYMPOSIUM!

Have you ever thought of the perfect thing to say, but it was on the drive home? A crucial part of a child support enforcement professional's job is having conversations that aren't always easy or stress-free. Stevie Ray is an expert at helping people think on their feet and handle tough on-the-spot challenges. In this fun and interactive webinar, you will learn techniques that can be used every day to improve your communication skills and ability to manage challenging, on-the-spot interactions. Rather than sit and watch another PowerPoint presentation, Stevie Ray will have you on your feet learning real-world skills.
What you will learn:
– Communication skills for difficult situations
– Handling conflict and objections
– Listening and focus skills
Your instructor:
Stevie Ray has been a nationally recognized speaker and trainer for over 30 years, helping Fortune 500 companies and small organizations alike improve communication skills, teamwork, innovative thinking, leadership, and customer service. He is the Executive Director of Stevie Ray's Improv Company in Minneapolis, a company that has provided training and entertainment since 1989. Stevie is also a nationally syndicated columnist for the Business Journal Newspapers and is the author of ten books. He lives in Minneapolis with his wife and stepdaughter. He learned his quick-thinking skills trying to win debates with them. For more information, visit www.stevierays.org.

Registration: FREE for NCSEA Members*
This web-talk is available for NCSEA members, only.