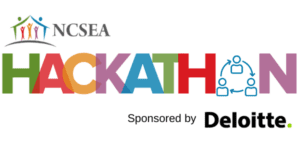 Sponsored by NCSEA Gold Corporate Partner, Deloitte
At the 2021 Leadership Symposium, facilitators guided participants through designing the future of child support. During the session, participants visualized the people, policies, and technologies needed for child support programs to evolve to meet future demands.
As a follow up to that session, join the Deloitte team for a 90-minute Hackathon, to take a a deeper dive into several of these topics. During this fast-paced, virtual event, participants will collaborate in small groups, with other child support professionals, to find solutions to today's challenges centered around:
Workforce Development
Technology
Customer Service
When: Thursday, October 14, 2021
Time: 2 PM ET / 1 PM CT / 12 PM MT / 11 AM PT
Where: Zoom
Registration required. Space is limited. Open to public sector employees only.