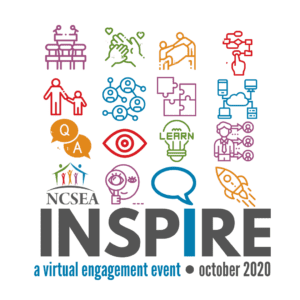 NCSEA is excited to introduce INSPIRE, a virtual engagement event designed to inspire child support professionals in how they approach their work, colleagues, clients and customers, and discover new and invigorating approaches to their jobs.  NCSEA INSPIRE consists of plenary and workshop sessions, Learning Labs, the NCSEA Book Club and Child Support Hackathon – a variety of formats and presentations. And it's all FREE for NCSEA members and those receiving member benefits.
Scheduled over four weeks in October, INSPIRE requires a commitment of no more than two hours per day. Individuals can pick and choose sessions that are of interest to them and that they can make time to attend. We recognize that everyone won't be able to attend every session – but each one will be recorded and made available to our members on-demand.
For now, save the dates. We'll be sharing detailed session and scheduling information with you shortly, but you can always check the website for updates, www.ncseainspire.org.