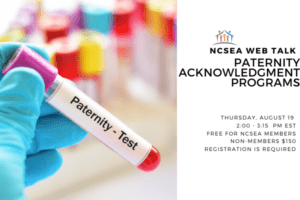 Paternity Acknowledgment Programs
Maintaining programs through the pandemic. How have states adjusted their Paternity Acknowledgment programs during the pandemic to meet the needs of customers and community partners?
Speakers
Sandra Brown – Virginia Department of Social Services, Program Guidance Manager
Amy Peters – Iowa State University, Child Welfare Research and Training Project
Marshall Ziglar – Ohio Department of Job and Family Services
Registration for this event is closed. Members can access the NCSEA Web Talk Library for the recording.