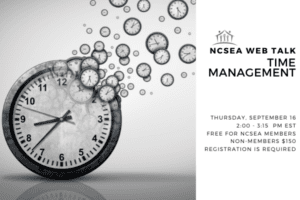 Time Management
Effective time management is critical in meeting the demands of the ever-increasing pace of our professional and personal lives. In this WebTalk, we will explore some best practices for managing our time effectively for better outcomes.
Speakers
Sarah Hurst – Deputy Director, Georgia Department of Human Services Division of Child Support Services
Stephanie Knuth – Capture Manager Proposal Development Center, Conduent
Charles Smith – President/CEO of Smith Consulting
Registration for this event is closed. Members can access the NCSEA Web Talk Library for the recording.