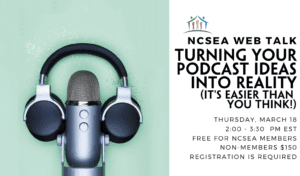 Turning your Podcast Ideas into Reality (It's Easier Than You Think!)"
Podcasting has become a fixture in our digital culture, both personally and professionally.  According to the Edison Research Group, 32% of Americans listen to podcasts monthly, and this number is only expected to grow.  Let's talk about how this can benefit the child support program, and what you can do to get started.   In this session we will discuss the nuts and bolts of putting together a podcast. We will explore some ideas for content, as well as talk about how to actually record and edit, what tools are available, how to get it distributed and share some of our favorite podcast highlights.
Speakers
Tim 
Lightner
, Alaska Child Support Services
Joe 
Mamlin
, Grays Peak Strategies
Registration for this event is closed. Members can access the NCSEA Web Talk Library for the recording.