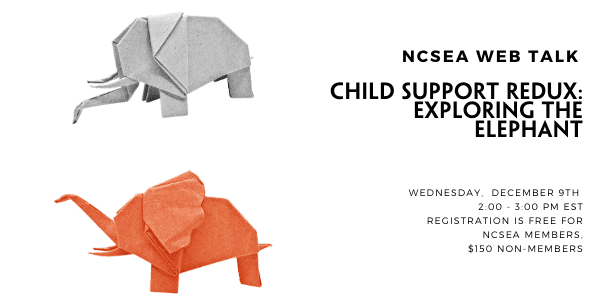 Child Support Redux: Exploring the Elephant
Once upon a time, two grizzled, doddering child support professionals co-authored a book, "The Insiders' Guide to Child Support: How the System Works." They envisioned a handbook that would explain government programs authorized under Title IV-D of the Social Security Act, starting with the fact that IV-D is a roman numeral and not a wall-climbing vine.  They thought this book would be useful to parents, IV-D professionals, and those sole practitioner attorneys who take on a child support case because how hard could it be?
Like the story of the blind men and the elephant, everyone who comes in contact with the arcane, 
byzantine
 system known as the child support program touches a different part.  For some, the system can be smooth and supportive, while for others, the system can be a crushing and overpowering bureaucracy.  Because the elephant is so, well, elephantine, the exploration requires an examination from trunk to tail.  The authors flesh it out in their book.
Join Jeff Ball and Mary Ann Wellbank as they discuss their collaboration and share their insights regarding writing their book, and the current and future state of the child support program.  Their Web-Talk promises to be engaging, educational, and interactive as they explore the elephant.  No talking heads or boring PowerPoints here!
Speakers
Jeff Ball – 

YoungWilliams


Mary Ann 

Wellbank

 – Consultant
Registration for this event is closed. Members can access the NCSEA Web Talk Library for the recording.