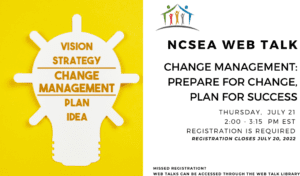 Prepare for Change, Plan for Success
July 21, 2022 2:00pm ET
We often think of change as something that is hard to do; something we inherently resist because it pushes us out of our comfort zone. Yet research shows that change without purpose and method is what makes changing difficult and unsuccessful. Data shows that projects with effective change management practices are five to six times more successful than projects that did not address the people side of change effectively. Join us for an interactive session where you will assess your own change style and learn a structured methodology to support the adoption of change and increase the success of implementing change.
Speakers:
Abe Mendoza, Regional Administrator, California DCSS
Jonell Sullivan, Child Support Operations Administrator, Arizona DES/DCSS
Mia Sena, Senior Associate, Public Knowledge
Anthony Valenti, Director of Business, Veritas HHS