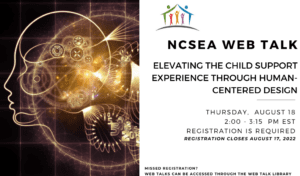 Thursday, August 18, 2022
2:00pm -3:15om ET
Join us for an engaging discussion as representatives from different states describe their experience utilizing human-centered design to elevate the child support experience in their states.  The discussion will be led in a question/answer format allowing each representative the opportunity to expand on the question asked and provide details on how their organization is/has implemented human-centered design.  The audience will leave this web talk equipped with an enhanced understanding of human-centered design, the knowledge of how other states are improving their processes/procedures through human-centered design techniques and how they may implement into their own programs.
Human Centered Design (HCD) is both a process and a mindset for addressing complex problems by designing solutions with those (aka end user or recipient) who will ultimately use the solution/services. What makes HCD effective is always asking:
what behaviors, needs, ways of thinking, and experiences do our end users have that need to be addressed as we design our services/programs/resources? And,
what capacities, limitations, and perspectives from our stakeholders (partners, community organizations, staff from other departments/agencies) need to be incorporated into solutions?
The primary focus on end users/recipients promotes effective, efficient, and compassionate service delivery. HCD takes an iterative approach to solutions so the first prototype or pilot test isn't likely to be the final solution, but instead is used generate feedback from end users and stakeholders to help refine and test… and then refine and test again!
Speakers:
Ruth Anne Thornton, IV-D Director, Texas Office of the Attorney General
Pat Stricker, Information Services Chief, Ohio Department of Job & Family Services
Michael Hayes, Senior Programs Manager, Office of Child Support Enforcement
Mayra Marquez (Moderator), Deloitte