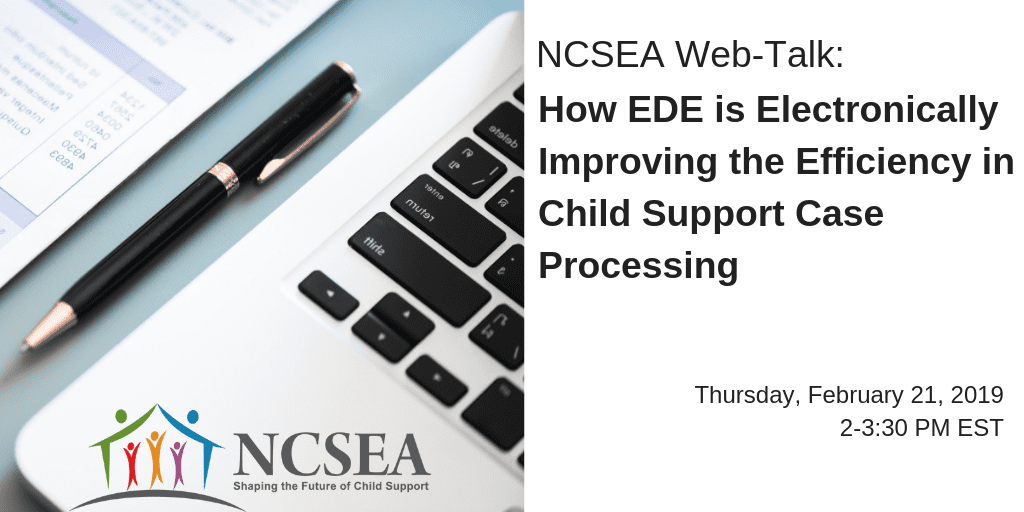 Electronic Document Exchange…….what is it, how do I sign up for it and how will this help make my caseload or intergovernmental unit more efficient.  Join our conversation with an overview of EDE from OCSE along with California's perspective and how Indiana not only uses it to communicate with other states but internally among their 92 counties
Speakers
Courtney Garnand – State Program and Technical Support Liaison, OCSE
Courtney serves as a State Program and Technical Support Liaison for the Federal Office of Child Support Enforcement (OCSE) for Regions IV, V, VI, and VII. She works with states to maximize their use of the Federal Parent Locator Service (FPLS) data through automated processes and the Portal. Prior to joining OCSE in early 2016, she worked for 16 years in the State of Oklahoma Child Support Program. As a Programs Field Representative (PFR) in Oklahoma, she was responsible for the areas of Intergovernmental cases, State Services Portal, Technology, and the Adjunct Faculty Program.
Susan Smith – Intergovernmental Central Registry Unit Supervisor, Indiana Child Support Bureau
Susan Smith has been with the Indiana State Child Support Bureau since January 1990, acting as the supervisor of the Intergovernmental Central Registry Unit (ICRU) since June 2007. She has served as the main point of contact for all things intergovernmental in Indiana, including Electronic Document Exchange (EDE), Query Interstate Cases for Kids (QUICK), the Intergovernmental Reference Guide (IRG) and how they all work together. Susan currently serves as a member of the ERICSA Policy and Legislation Committee. She has been chosen as the Indiana representative for the National Intergovernmental Work Group, the EDE Consortium, the IRG Workgroup as well as the Intergovernmental Case Reconciliation (ICR) Workgroup. Susan regularly participates in several border and multi-state conferences as well as a Bi-Regional Intergovernmental Conference for Regions V & VII.
Cynthia Schilke – Staff Services Manager II, Office of Intergovernmental Services, in California's Department of Child Support Services
Cynthia serves as a Staff Services Manager II over the Intergovernmental Services Section and Central Registry in California's Department of Child Support Services (DCSS). Prior to joining the Office of Intergovernmental Services, in April 2018, Cynthia spent 4 years as the Staff Services Manager I over California's State Disbursement Operations Team. She came to DCSS from California's El Dorado County Agency where she was also a case manager, working intergovernmental cases.
Moderator
Amy Burgoon – Vice-President of Operations, Sunflower Child Support Service
Ms. Burgoon began her service to Kansas Child Support in 1999 in clerical and after a short time became a caseworker. She continued in a caseload carrying position until 2005 when she became a trainer/quality assurance specialist in the Performance Improvement division for the Kansas City, KS Metro Region. In August 2010 she joined KS CSS Administration as part of the Self-Assessment/Training unit. Amy then served as a Public Service Executive for KS CSS Administration, overseeing the Child Support Savings Initiative program, Self-Assessment unit, and statewide Training coordination. Sunflower Child Support Services, one of the four full-service vendors serving CSS customers in KS, gained Amy as their Project Manager in July 2018. Amy has two children, a 13-year-old boy and 10 year old girl, who keep her busy and smiling. She loves to travel and meet new people.
Registration for this event is closed. Members can access the NCSEA Web Talk Library for the recording.