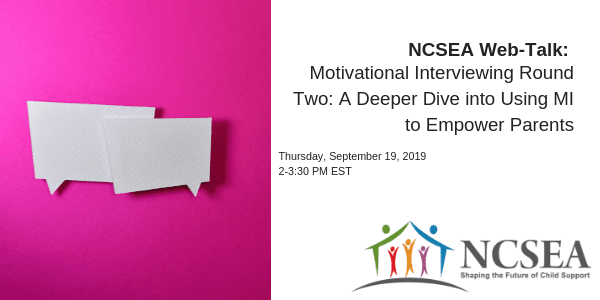 Motivational Interviewing is a great way to create more meaningful connections with customers. As a companion to last year's presentation, this web-talk will briefly address the foundations of motivational interviewing and give listeners even more tools to interact with customers. Listeners should have their phone and a piece of paper handy. Join us for new ideas.
Registrants are invited to watch the 2018 NCSEA Web-Talk: Motivational Interviewing in preparation for this event. This web-talk can be found in the NCSEA Web-Talk Library.
Speakers
Kristie Arneson – IV-D Director, Wyoming Department of Family Services
Jill Kiester – Department Manger, Natrona County Child Support Enforcement Department
Registration for this event is closed. Members can access the NCSEA Web Talk Library for the recording.