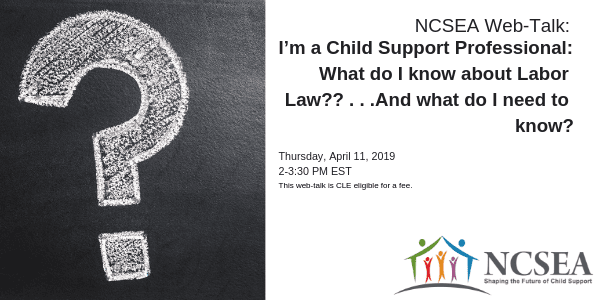 Your Child Support Workplace Complies with Employment Laws Part 1 – Labor Law 101 for the Child Support Professional
In Part 1 of this Labor Law Series, our experts will walk you through the fundamentals of several important labor laws that impact your child support office and employees – and can even help you with your child support cases! Come learn an entire new set of terms and acronyms specific to labor law, including Title VII, ADA, ADEA, PDA, EEO, GINA, EEOC, ERISA, FMLA, EPA (not the one you usually think of!), FLSA, OSHA and CBAs. While we cannot promise you that you will become a labor law expert, this initial installment of NCSEA's Labor Law Series will help to familiarize you with the basic principles which are behind the rules which govern the employee-employer relationship and will give you enough of a background to avoid liability for your own actions and the actions of your fellow workers.
Speakers
Christina M. Mahoney – Assistant Attorney General, Illinois
Christina is an Assistant Attorney General for the Illinois Attorney General's Office. She serves as the Northern District Supervisor of the Child Support Enforcement Division, managing a team of Assistant Attorneys General throughout Northern Illinois in the enforcement and litigation of child support, probate, and Medicaid cases administered by the Illinois Department of Healthcare and Family Services. Christina has been an Assistant Attorney General since 2004, serving in the Criminal Appeals Bureau, Public Aid Bureau, and Statewide Grand Jury Bureau. Christina began her career as an Assistant District Attorney in Boston, Massachusetts, where she prosecuted numerous misdemeanor and felony crimes. During her time in Boston, she also worked as a solo practitioner, focusing on criminal and family law, and subsequently joined the law firm of Denner O'Malley as a senior associate, practicing criminal law on both the state and federal levels, until her move to Chicago in 2004.
Nicholas Palos – Support Magistrate, New York Family Court
Nicholas J. Palos, Esq. has served as a Support Magistrate in the New York State Family Court since November, 1997. He has served in the Child Support Enforcement Term, which heard all New York City TANF based cases, and in New York County and Kings County Family Courts, where he hears private cases. He currently presides over a problem-solving court in Kings County. Prior to his appointment as a Support Magistrate, he spent five years as a Court Attorney assigned to a Family Court Judge and three years as a Child Protective Attorney in New York City. He is a member of the ERICSA Board, currently service as the Vice President for Conference Operations. He is a both a past president and past vice president of the New York State Support Magistrates Association, and currently serves as the organization's President. He is a past member of the NCSEA board of directors. He has served on several Family Court Advisory Committees. He has presented at numerous NCSEA, ERICSA, WICSEC and NTSCA conferences, the Heidelberg and Hong Kong international conference, and several CLE programs for local bar associations, including the Association of the Bar of the City of New York and the New York County Lawyers Association. He co-taught the Paternity and Child Support Unit for the Appellate Division, Second Department's training for the assigned counsel panel. Mr. Palos holds Bachelor of Art and Juris Doctor degrees from Fordham University. He is admitted to practice in New York and before the Supreme Court of the United States.
Moderator
Carla West – IV-D Director, State of North Carolina Child Support Services
Carla West serves as the IV-D Director for the North Carolina Child Support Program, with overall responsibility for the program, providing leadership and direction, and establishing program priorities. She has more than 21 years of experience in child support and has worked in virtually all levels of child support operations, from line staff, supervision, training, and quality control to project management. She is a former board member for Leading into New Communities (LINC), a program in New Hanover County, North Carolina that focuses on empowering individuals with criminal histories or at-risk youth, and she is a founding member of the New Hanover County Partnership for Fatherhood. A frequent presenter at state and national conferences, Carla has had two articles published in the National Child Support Enforcement Association (NCSEA) Child Support CommuniQue (CSQ): "Electronic Monitoring as an Enforcement Tool" and "Location Basics—How to Get Started with an Internet Search."
A past president of the Eastern Regional Interstate Child Support Association (ERICSA), Carla currently serves on the board of the North Carolina Child Support Council (NCCSC) and the Honorary Board of ERICSA. She is also the chair of the NCSEA CSQ Committee. Carla has an M.B.A. and a B.S. in Business Management from Bellevue University.
Registration for this event is closed. Members can access the NCSEA Web Talk Library for the recording.