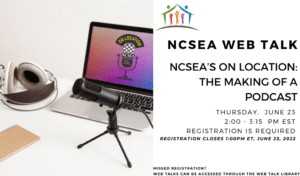 Thursday, June 23, 2022
2:00pm ET/1:00pm CT/12:00pm MT/11:00am PT
You've heard us talk about the technically creative, informative, and engaging NCSEA On Location podcast.  Now come prepared for this interactive session where you will hear about the call for the podcast medium in the child support community and be involved in a crowdsource demonstration.  Join in as we take your questions, your thoughts and ideas, and record a live discussion on podcasting; demonstrate editing; and begin to turn this collective conversation into an NCSEA On Location podcast.  Learn about the recent On Location survey results where NCSEA members provided topics and have your opportunity to provide more.
Featured Speakers:
Tim Lightner, Child Support Specialist II, Alaska CSD
Joe Mamlin, Senior Consultant, Grays Peak Strategies