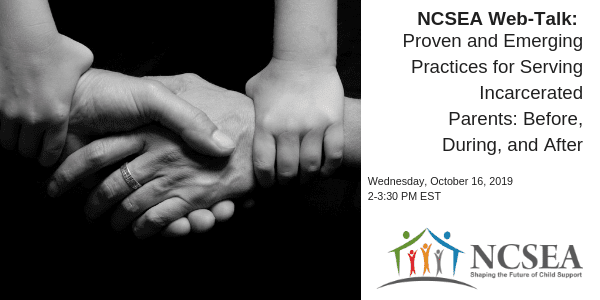 Incarcerated parents are a challenging segment of the child support caseload.  When a parent goes to prison, there isn't much the child support agency can do except wait until they get released.  Or is there?  In fact, there are things you can do before, during, and after a parent is incarcerated.  This web-talk provides peer-to-peer learning from states and tribes that have long-standing, proven effective approaches, as well as newly implemented practices and policies.  Nearly every parent in prison will be released, and their children will need financial and emotional support.  Effective child support actions can improve the likelihood that a formerly incarcerated parent will successfully return, and consistently pay their support.  This panel of speakers will provide concrete examples, and the roadmaps to design and implement them.  Children with a formerly incarcerated parent face many serious challenges.  We can work to improve those children's outcomes though consistent financial support and a greater chance at reconnecting with their parent.
Speakers
Jim Fleming – IV-D Director, North Dakota DHS
Adam Gibson – Chickasaw Nation, Child Support Services
John Ginwright- Deputy Director, Missouri Family Support Division
John Mallea – Washington DSHS
Mariah Sanders – Chickasaw Nation, Child Support Services
Registration for this event is closed. Members can access the NCSEA Web Talk Library for the recording.